Keep Nebraska Beautiful Day
Save the Date! KNB Day is Saturday, June 26, 2021
Keep Nebraska Beautiful Day is almost here! On Saturday, June 26, 2021 we encourage every Nebraskan to get outside and provide a service to their community. It is our hope that, by taking on small community projects individually, we will make a big impact collectively! Following are some ideas for events in your community:
Community Cleanups – partners could include local business associations or businesses in the area 
Sponsor a home/business to improve landscape – partners could include a local bank or Senior Center/RSVP Program
Collection event  – partner with your local homeless shelter to collect clothing or other household goods
Tree Planting event – partners could include local Tree Board
Education in the Park: Providing fun lessons in a park setting about harmful effects of litter or pollution – partners could include summer school programs, Girl/Boy Scouts.  
Reusable Shopping Bag Promotion: Hand out reusable bags or provide prizes to those who bring their own bags.  Partners could include local grocery stores who could provide prizes.  
Pledge Drive:  Create a pledge for people to sign to make small changes that reduce waste.  Partners could include local library, or other publicly visited area that you could safely approach people.  
Tree Hike:  Planning a group hike/walk/bike that follow a path with different tree species.  You could partner with UNL Forestry that could provide information to participants on tree identification and characteristics. 
Game and Parks – Partner with Game and Parks in a local state park area and have an interactive lesson on wildlife, plants, etc.  – could include discussion on water pollution caused by run off or harmful effects of litter on our wildlife.
Local Proclamation – Partner with your City or County Mayor or Commissioners to proclaim Keep Nebraska Beautiful Day in your community/county.    
As with everything you do, please continue following recommendations of the CDC and Nebraska DHHS when it comes to social distancing. We want this to be a day that is safe, fun, and beneficial for all our participants!
If you can't decide where to pick up litter, or want to see if anyone else in your community will be participating, post below and let us know.
We would love to see how you continue these activities year round, so please upload your photo to Facebook, Instagram, or Twitter with #keepnebraskabeautiful or tag us, and we will send you a gift as our thanks for your help keeping our state beautiful!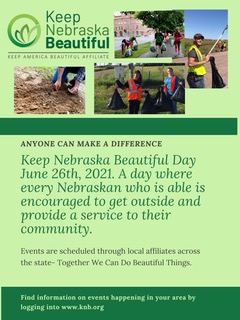 A big THANK YOU to all of our Nebraska neighbors who cleaned up trails, parks, and even rivers for last year's Keep Nebraska Beautiful Day. Nebraska is a little cleaner, and a little more beautiful today because of you!