Keep Nebraska Beautiful Day
Save the Date! KNB Day is Saturday, June 26, 2021
Keep Nebraska Beautiful Day is almost here! On Saturday, June 26, 2021 we encourage every Nebraskan to get outside and provide a service to their community. It is our hope that, by taking on small community projects individually, we will make a big impact collectively! Following are some events taking place in communities across Nebraska:
Keep Cass County Beautiful: Join in for activities including a kid's craft and a nature walk at the Elmwood, NE Farmers Market from 8-12! Compost and environment information will also be available, as well as hanging flower baskets for sale. Please email linda@keepcasscountybeautiful.com for more details.
 Keep North Platte Beautiful: Participate in the #DoBeautifulThings Challenge by challenging friends and family to do a service for their community! This could include trash cleanup, helping a neighbor with a yard cleanup, or even planting a tree. 
A group of volunteers will be meeting up at 9:00 AM on Saturday, June 26th at the Cody Park in North Platte, NE, to do a cleanup in the park. The cleanup is being organized by Adi Fernandez of the Radio X station in North Platte. You can reach her by email at radioxnp@gmail.com for more details. All interested volunteers: please wear a green shirt and come to clean up the park on Saturday morning, which will be followed by further cleanup efforts at the outlet lakes. This is a great way to do a service for the community!
Mayor Kelliher also signed a proclamation naming June 26th as Keep North Platte Beautiful Day! Every Nebraskan who is able is encouraged to get outside and provide a service to their community. The day is a way to focus attention on the importance of keeping our communities clean, green, and beautiful. 
Keep Lexington Beautiful: Join KLB for a community cleanup! This event will kick off at 9 AM at the Lexington Public Library on Saturday, June 26th. All volunteers are asked to wear comfy clothes that you don't mind getting dirty. Trash bags, grabbers, water, and snacks will be provided! Please email keeplexbeautiful@rocketmail.com for further information. 
Keep Columbus Beautiful: Join KCB for an island cleanup day on Saturday, June 26th from 9-11 AM. Please email keepcolumbusbeautiful@yahoo.com for more details. 
Keep Chadron Beautiful: Participate in the community challenge to pick up one piece of litter! The current population of Chadron is 5,591, so if each person in the area picks up one piece of litter, it will make a huge difference in beautifying and caring for the community! By taking on small projects individually, the community will make a big impact collectively. 
During the spring semester, Keep Chadron Beautiful had the opportunity to partner with Dr. Matthew Everton in the Chadron State College English department and hold a student writing competition on topics related to our environment and sustainable living. The two winning pieces, "Hell Yeah, We Want Recycling!" by Tobias Kounovsky and "Back Yard Composting" by Aarikah Johnson will be published on KeepChadronBeautiful.org on June 26th in honor of Keep Nebraska Beautiful Day. 
As with everything you do, please continue following recommendations of the CDC and Nebraska DHHS when it comes to social distancing. We want this to be a day that is safe, fun, and beneficial for all our participants!
If you can't decide where to pick up litter, or want to see if anyone else in your community will be participating, post below and let us know.
We would love to see how you continue these activities year round, so please upload your photo to Facebook, Instagram, or Twitter with #keepnebraskabeautiful or tag us, and we will send you a gift as our thanks for your help keeping our state beautiful!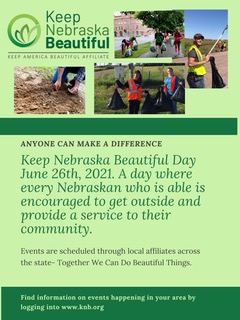 A big THANK YOU to all of our Nebraska neighbors who cleaned up trails, parks, and even rivers for last year's Keep Nebraska Beautiful Day. Nebraska is a little cleaner, and a little more beautiful today because of you!